Next Coalition meeting:
Friday, April 3rd
3:00-5:00pm
Location: Sawmill Lofts Rotunda
Join us afterward for happy hour at Ponderosa Brewing!
Most Recent Newsletter: December 2019
A Message from the Chairwoman
Greetings!

This time of year always lends itself to reflecting on what has been accomplished over the last 12 months and what lies ahead. I continue to be impressed with the power of this group and what we are able to achieve. For me the highlight was certainly the September workshop where we were able to shift people's perception about how GSI features could be incorporated into our day-to-day work now and provide practical resources for practitioners. I was enticed by the power of this thinking from a recent report that was released by One Water Alliance that states "local decision makers hold the keys to our water future. 95% of water infrastructure spending occurs at the community level." My take-away from this is that WE have the capacity to change our water future right now. Obviously there is still work to be done, but we have laid the groundwork to make 2020 an impressive year for green stormwater Infrastructure. I hope you'll continue on this journey with us! Many wishes for a beautiful holiday and Happy New Year!

Sarah Hurteau
Feature Project: Bosque de Bernalillo Water Quality Project
This SSCAFCA project collects runoff from parking lots and diverts flow from small storms into a water quality feature before discharging to the Rio Grande. Constructed in 2017, this project is just south of US 550, along the Coronado Arroyo. Read more about it here. Join us on the the 2020 Land and Water Summit Pre-Summit field trip for a special tour of this project.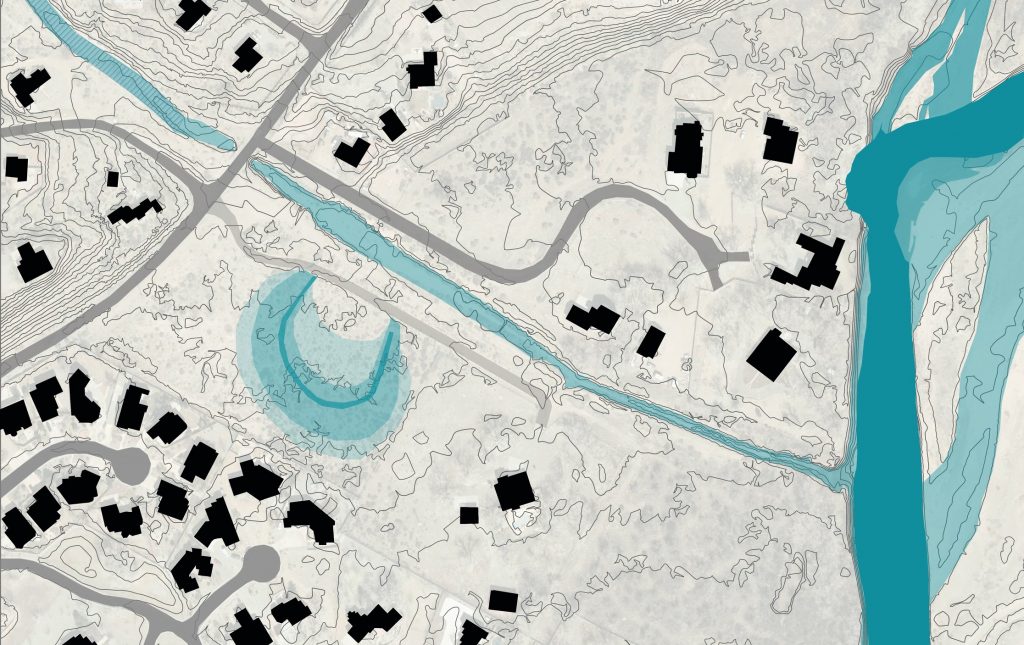 Announcements
The Arid LID Coalition website now features discussion forums. Current topics include 'Announcements', and a 'Community of Practice' for design professions. Sign up for the forums here, and make sure to subscribe to receive updates when new content is posted.
Congratulations to Adele Cardenas, P.E., Senior Policy Advisor at the U.S. E.P.A. on her retirement in early 2020!
Events
The next Arid LID Coalition Meeting will be held January 16th from 3:00-5:00 pm at the Rotunda Lofts (1801 Bellamah NW 87104) with a happy hour after at Ponderosa Brewery.
Registration is now open for the 2020 Land and Water Summit, 'Climate Ready Water Management,' on February 26-28. Early bird registration ends December 31, so sign up today!
The 2020 EPA Region 6 Stormwater Conference is tentatively set for August 2-6 in New Orleans. More info will be provided as it is available.
Resources
'Floods That Know No Bounds' shares a flood-mitigation plan for Nogales Arizona and Mexico that relies on GSI strategies.
Recent research on Mesquite trees compares soil moisture and sap velocity in locations receiving active and passive irrigation (stormwater runoff).
Through 13 case studies of public utility successes, the One Water Alliance Report demonstrates that new water infrastructure is decentralized, onsite, and local.
Arid LID and GSI strategies are critical to climate positive design. Explore other strategies and calculate your project's climate sequestration and emission with the Climate Positive Design App.
As use of GSI features increases, municipalities are working on new maintenance guidelines.
To submit content for the March newsletter, please email aridlidgroup@gmail.com .