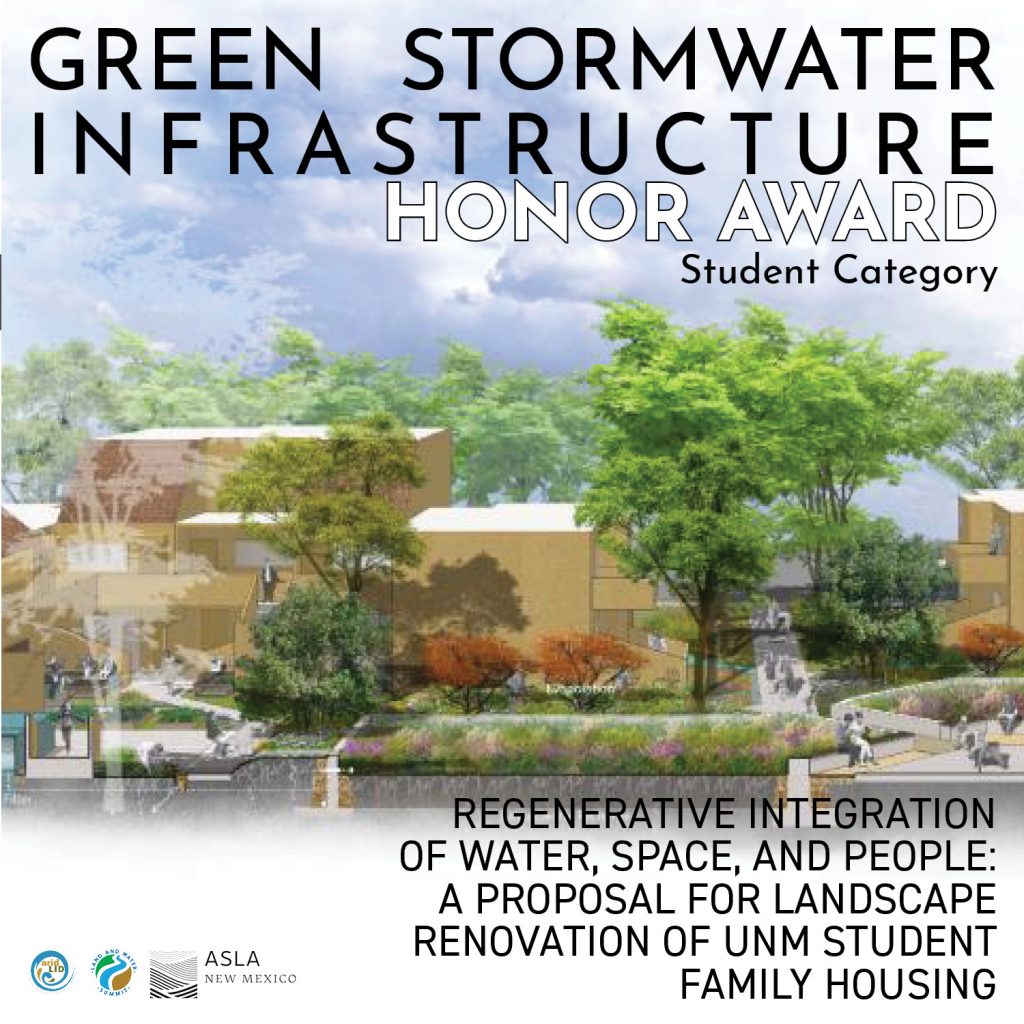 Regenerative Integration of Water, Space, and People: A proposal for landscape renovation of UNM Student Family Housing
Pei Li
Honor Award – Student Category
This project proposes to regenerate and integrate water, space, and people on this multi-family housing site by harvesting stormwater and reusing greywater to activate underutilized, fragmented outdoor spaces.
Water Cathedral
Place Integrated
Award of Excellence – Unbuilt Category
The project challenges the way we traditionally design stormwater detention ponds and may serve as a prototype for many others around the world. While many have become parks, the reuse of collected stormwater is not common. Capturing and storing water vertically provides a new method for managing stormwater in the basin while providing various other functions.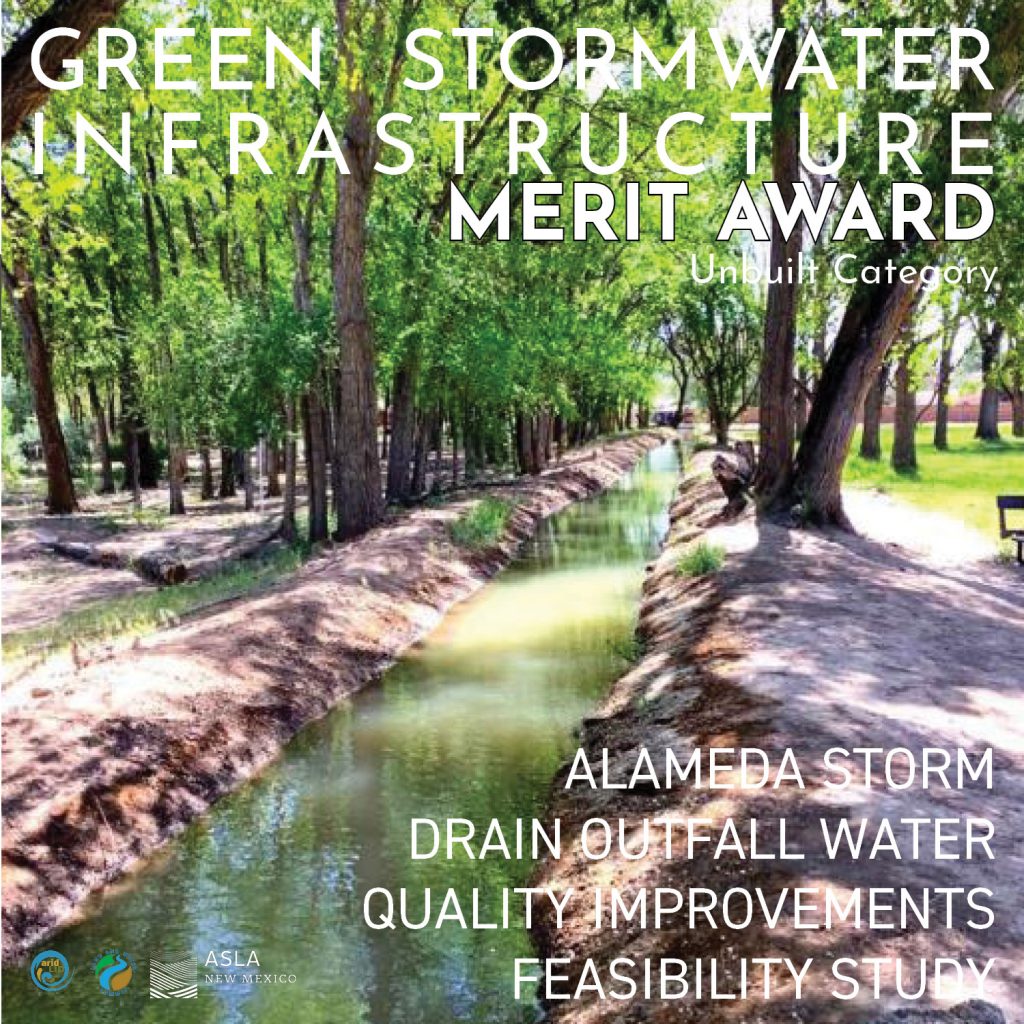 Alameda Storm Drain Outfall Water Quality Improvements Feasibility Study
Bohannan Huston, Inc.
Merit Award – Unbuilt Category
Study of the Alameda Storm Drain Outfall to incorporate multiple GSI features, improving the quality of storm water being discharged to the Rio Grande. Our collaborative approach led by an interdisciplinary design team has produced innovative GSI options that optimize the site and help meet MRG MS4 permit requirements.
Client: Bernalillo County
Landscape Architects: MRWM Landscape Architects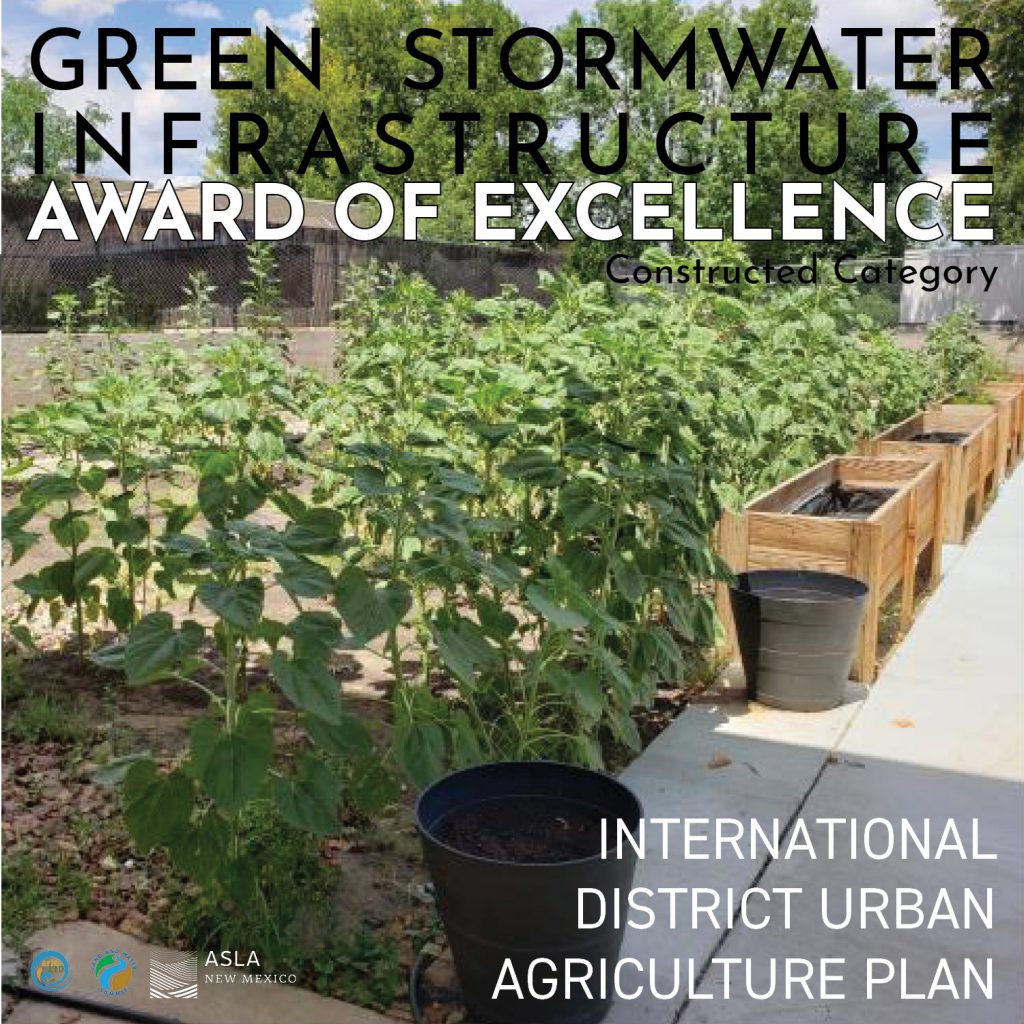 International District Urban Agriculture Plan
Groundworks Studio NM
Award of Excellence – Constructed Category
Through the involvement of over 20 stakeholder groups and focus on nine distinct urban agriculture sites, this plan creates a sustainable framework for urban agriculture in Albuquerque's most economically challenged and culturally diverse urban neighborhoods, including multiple strategies for on-site water harvesting and urban soil remediation.
Client: Bernalillo County
Contractor: Yellowstone Landscape
Consultant: Adaptive Terrain Systems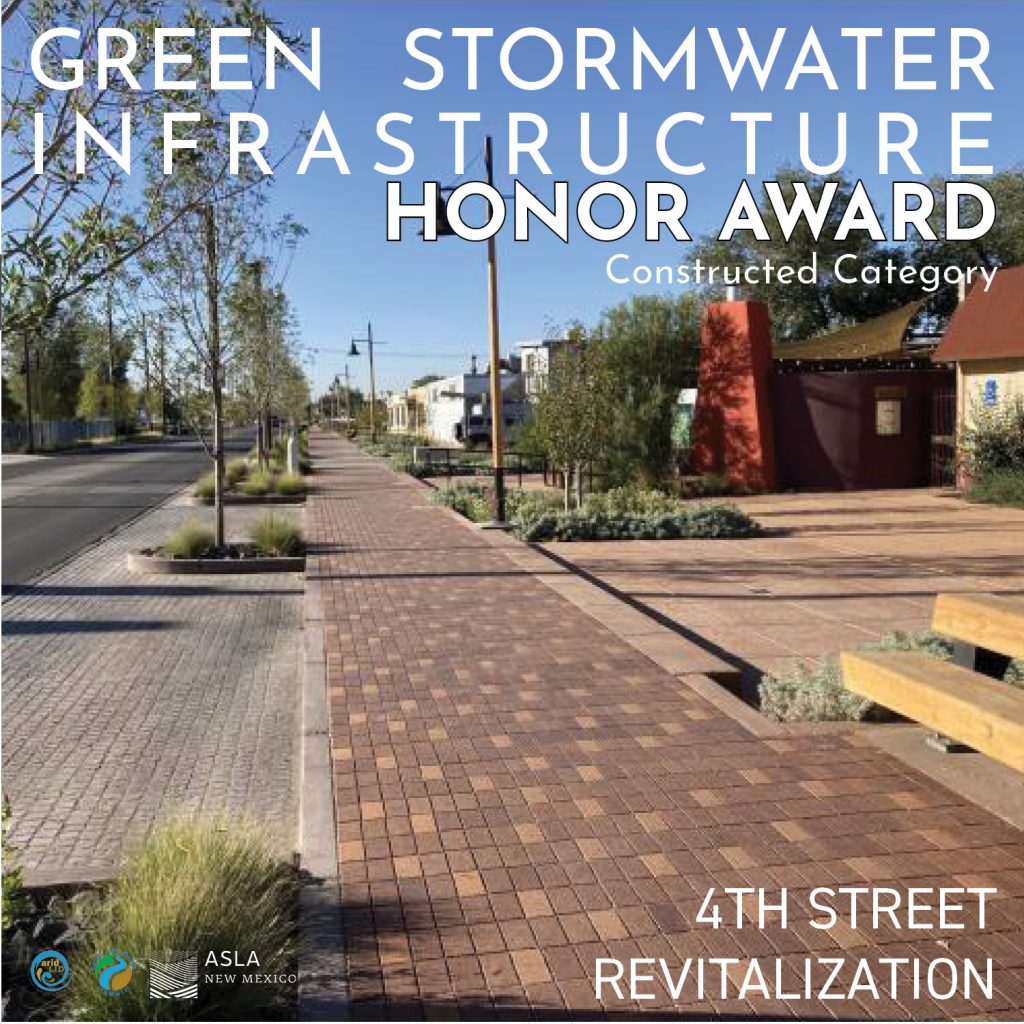 4th Street Revitalization
Sites Southwest
Honor Award – Constructed Category
This project demonstrates that very innovative green infrastructure can integrate elegantly with traditional streetscape design and construction. Also, while this Revitalization Project was an economic development project, the village of Los Ranchos was a strong advocate for green infrastructure. That is very unusual of many public agencies and deserves recognition.
Client: Village of Los Ranchos
Contractor: Bradbury Stamm
Engineer: Tierra West Engineers
Consultant: Terry Brown, Traffic Engineer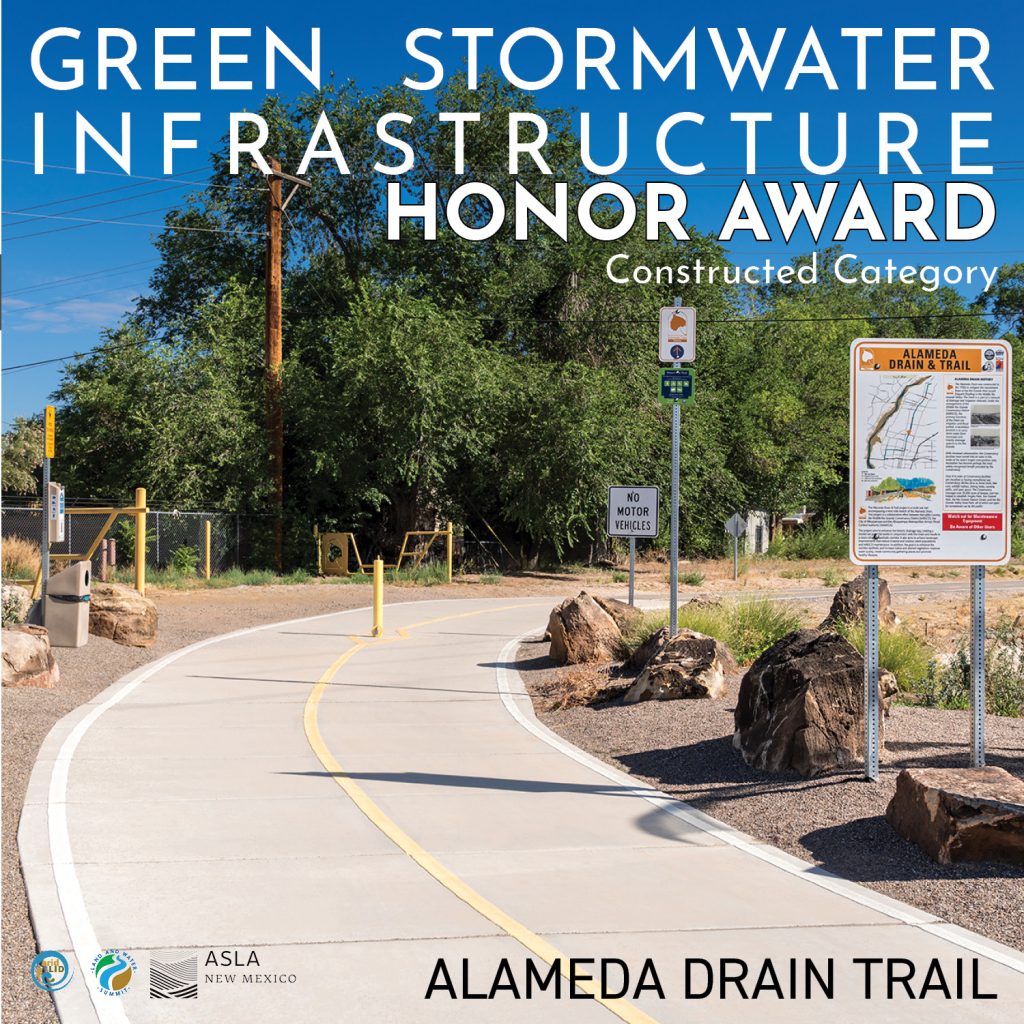 Alameda Drain Trail
Dekker/Perich/Sabatini
Honor Award – Constructed Category
Description: The Alameda Drain Trail transforms a nine-mile drain located in the Middle Rio Grande Valley into a regional transportation and recreation asset. A collaborative effort between four public agencies, this project brings a multi-use path to utilitarian drainage conveyance system, while incorporating several green stormwater infrastructure features.
Client: Middle Rio Grande Conservancy District
Project Lead: Parametrix Engineering
Engineers: Parametrix Engineering & Weston Solutions
Contractor: HO Contractors
Consultant: Sequoia Landscape Contractors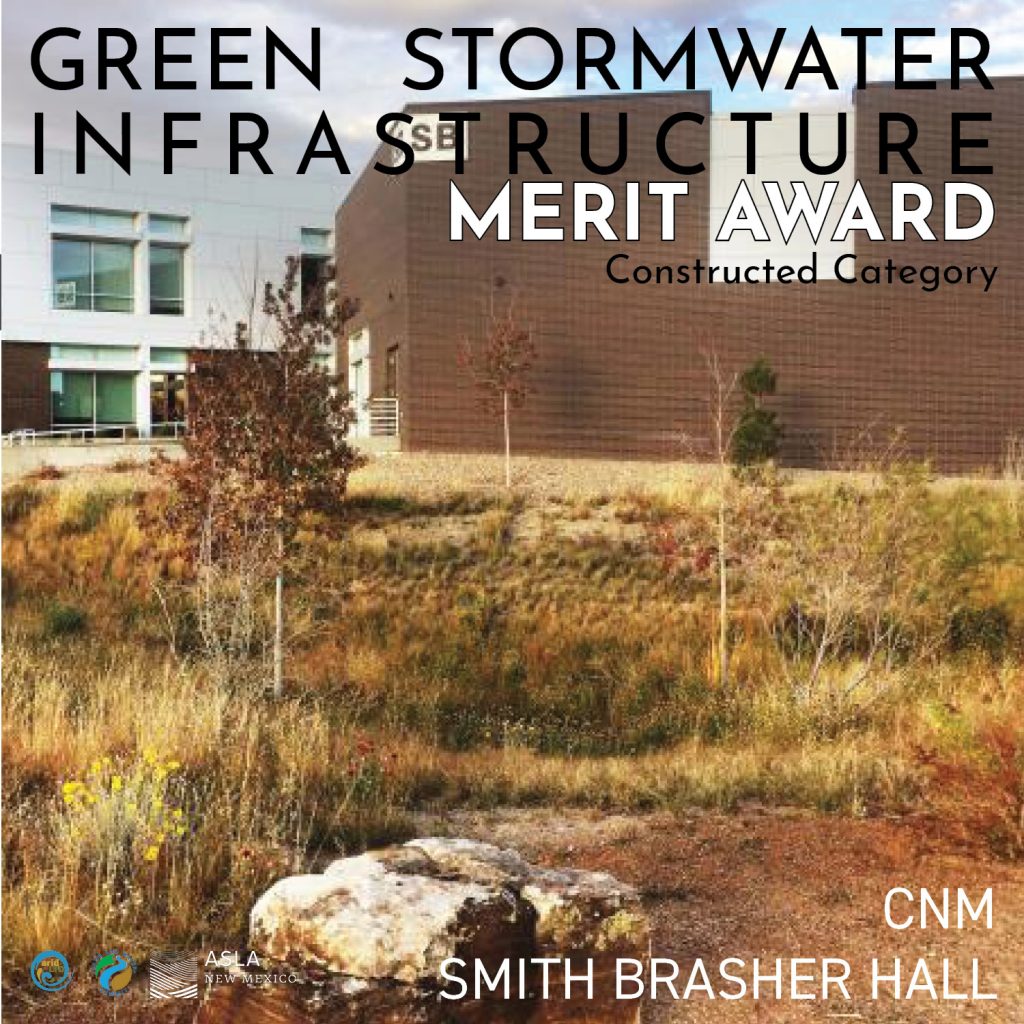 Central New Mexico Community College (CNM)
Smith Brasher Hall
MRWM Landscape Architects
Merit Award – Constructed Category
The landscape at CNM's Smith Brasher Hall is an innovative water harvesting landscape that includes GSI features throughout the site. Features include stormwater harvesting basins, stormwater tree trenches, and a bioswale with check dams. This LEED Gold project uses stormwater to decrease irrigation needs while increasing shade and habitat.
Client: CNM
Project Lead/Architect: FBT Architects
Engineer: Bohannan Huston
Contractor: Bradbury Stamm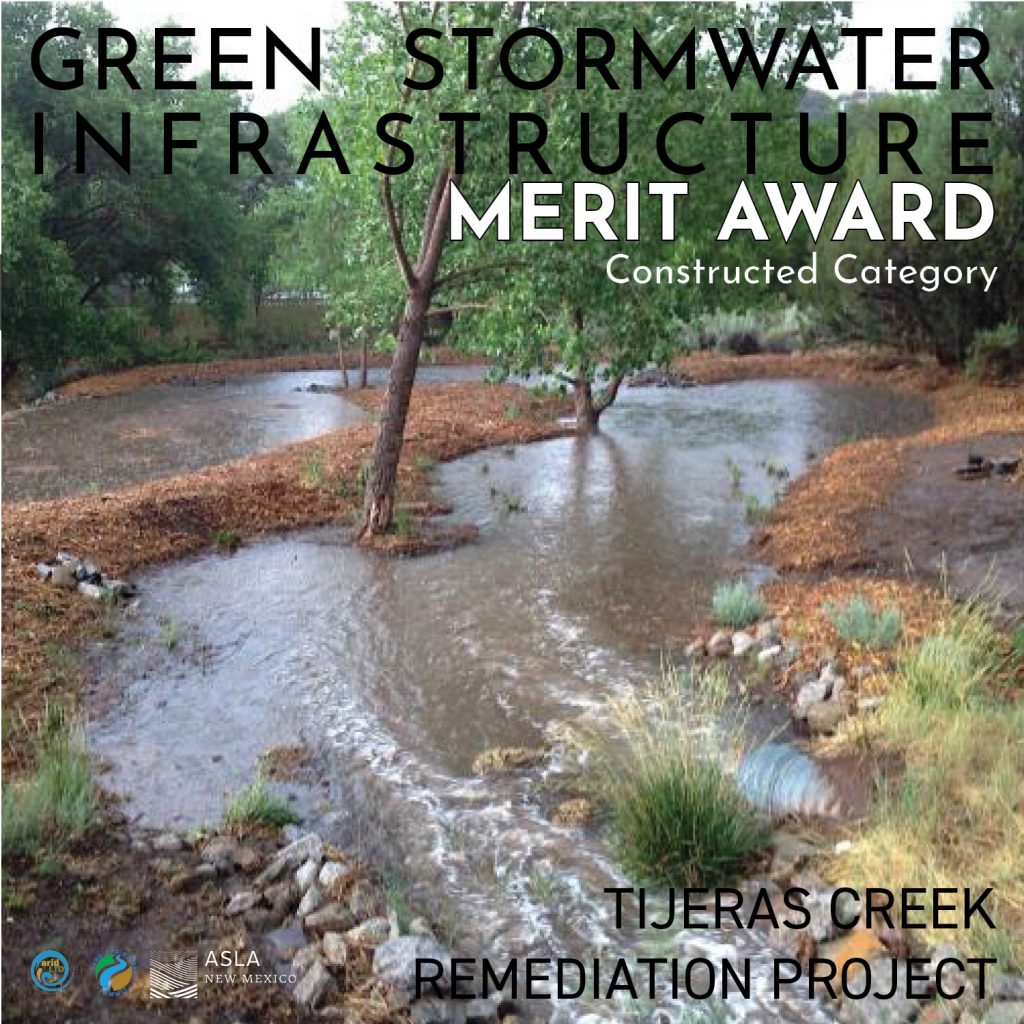 Tijeras Creek Remediation Project
Adaptive Terrain Systems
Merit Award – Constructed Category
The site's teaching and demonstration strengths allow professionals and citizens to experience how a project initially described as "impossible" can be achieved. On ½ acre it provides ecosystem services for 20 acres of impermeable or compacted surface. Complete recovery from invasive species that originally choked the site.
Client: Bernalillo County,
Contributors: Soilutions, Ciudad Soil & Water Conservation District, The Nature Conservancy