This event has passed. Scroll down to view the workshop speakers' bios.
To view presentations and resources from the workshop, click here.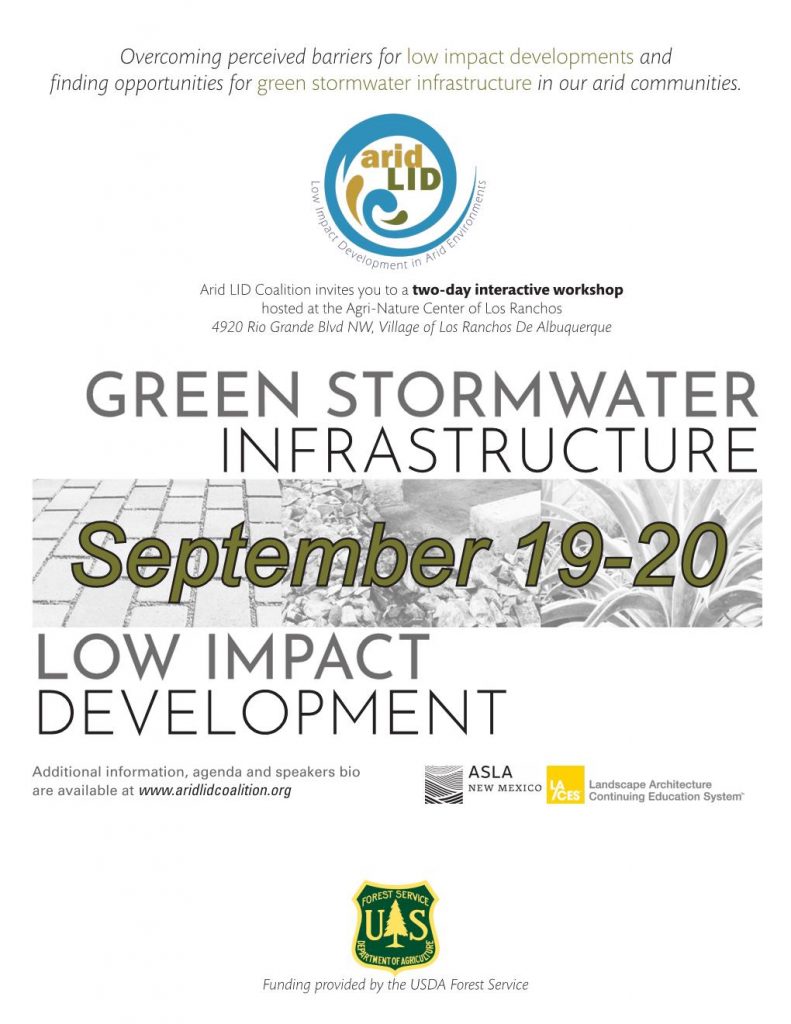 Speakers
Kieran Sikdar, Hydraulic and Hydrologic Analyst and Green Infrastructure Specialist, Holistic Engineering and Land Management
Kieran Sikdar has over 15 years of experience working on stormwater management and natural resource challenges using decentralized, green infrastructure, and regenerative solutions. He is certified as an Envision Sustainability Professional, Engineer-In-Training, Certified Floodplain Manager, Water Harvesting Professional and a Permaculture Designer. Kieran has Master's Degrees in Civil Engineering and Operations Research and a Bachelor's Degree in Integrated Systems Engineering from Ohio State University. Kieran's work is grounded at the intersection of engineering design, community planning and visioning, policy development, and quality of life for all beings.
Ann Moynihan, Pima County Regional Flood Control District
Ann is Civil Engineering Manager at the Pima County Regional Flood Control District in Tucson, Arizona. Ann has had the pleasure of working with many residents and professionals who value stormwater runoff as a resource. There is still much to do to promote site planning with more opportunities; therefore, Ann has been organizing and participating in workshops since 2011 and managed the update of the District's detention and retention standards in 2015. The update includes guidelines about shallow retention for beneficial use of stormwater. Her newest effort will be developing construction details for regional adoption.
Terrill Lemke, LANL Storm Water Permitting and Compliance Team Leader
A graduate of Utah State University, Terrill leads the Storm Water Management and NPDES compliance team at Los Alamos National Laboratory. Terrill leads his team's development of Laboratory institutional guidance documents and engineering standards for storm water management and regulatory compliance. He has developed and implemented construction and industrial Storm Water Pollution Prevention (SWPP) Plans, performed engineering designs for storm water management and sediment and erosion control.
Samuel Loftin, LANL Storm Water Permitting and Compliance, Environmental Professional
A graduate of Arizona State University and Western Oregon University, and Sam holds a Ph.D in Plant Ecology and Restoration Ecology from the University of New Mexico For over twenty years, Sam has applied his detailed knowledge, research and experience in plant ecology and restoration ecology to address water quality, ecological health, and restoration at Los Alamos National Laboratory.
Faith Okuma, Principal, Surroundings Studio, LLC
Faith has over four decades of experience leading multi-disciplinary teams in innovating land and development plans and projects for public and private clients toward more resilient and sustainable outcomes across the arid west. She is a graduate of Arizona State University and studied at Utah State University and the University of Arizona.
Kenneth Francis, Principal, Surroundings Studio, LLC
A graduate of Cooper Union and the Harvard Graduate School of Design, Kenneth brings an abiding passion for water and its systems beginning with his graduate thesis on historic acequia systems in northern New Mexico. He emphasizes creative integration of green infrastructure on his innovative landscape and planning projects throughout New Mexico and Texas.
Steven Glass, CNM Professor, Ciudad Soil and Water Conservation District Board Chair
Steve Glass earned an MS in Biology from NM State University in 1976. After graduation, Steve enjoyed a 35-year career in virologicalresearch, environmental laboratory management, biosolids composting, constructed wetlands research and stormwater compliance. Steve retired from local government in December 2011 and now teaches biology and environmental science at the Central New Mexico Community College. Steve represented local governments on the NM Water Quality Control Comission for ten years, has served as Chair of the Ciudad Soil and Water Conservation District Board for fifteen years, and represents seven SWCDs on the NM Soil and Water Conservation Commission.
Jitka Dekojova, ASLA, SITES AP
Jitka Dekojova, ASLA, SITES AP, is trained both as a landscape architect and an environmental planner. She is well equipped to balance both aesthetics and ecology in landscape design. While emphasizing adaptive reuse and green infrastructure, Jitka also takes into account the ephemeral phenomenological aspects of the urban environment: the need for whimsical elements, the joy of unexpected discovery in everyday urbanism, the advantage of flexibility in planned spaces, and the importance of mix of people to bring vibrancy into urban spaces. Jitka is a former president of NMASLA (The New Mexico Chapter of The American Society of Landscape Architects), and works at Dekker/Perich/Sabatini – a multi-disciplinary design firm with offices in AZ, NM and TX
Tess Houle, Landscape Designer, MRWM Landscape Architects
Tess Houle is a landscape designer at MRWM Landscape Architects in Albuquerque. She completed her Master of Landscape Architecture degree at UNM, including a thesis project on Green Stormwater Infrastructure. She is a Certified Water Harvesting Practitioner through the Watershed Management Group. GSI plays a key role in all of Tess' projects at MRWM, including the recent Railyards Event Space (Albuquerque) and Great Blocks on Mainstreet (Truth or Consequences). She also advocates for stormwater infrastructure change by serving on the Arid LID Coalition steering committee.
Vince Steiner, PE, CFM, Engineer Water Resources, Bohannan Huston Inc.
Vince is a consulting civil engineer (PE) and certified floodplain manager (CFM) with a passion for water harvesting and green stormwater infrastructure (GSI). He is experienced in drainage infrastructure design, GSI BMP design, and floodplain analysis/design. After starting his professional career in Tucson, Arizona he returned home to the Middle Rio Grande Valley a few years ago to be close to family and focus more on drainage and flood control work. He believes his duty as an engineer is to do what is best for his clients AND community and advocating GSI is part of that. He is excited to be helping increase the use of GSI in the region and improve its implementation through the AridLID Coalition!